Here at Hemphill Orthodontics, we offer a variety of technologically advanced treatment options to correct all kinds of orthodontic issues ranging from mild to severe, for patients of all ages! Although today's treatments are comfortable, efficient, and more discreet than ever, some patients are still on the fence about them. If you aren't sure about orthodontic treatment, it's probably because of what you think you know. Our team is debunking common myths about adult orthodontic treatment.
When it comes to orthodontic treatment, the first thing many people picture is a teenager in braces. While it's true that many of our patients are children and teens, orthodontics can actually benefit patients of all ages—even adults! In fact, the number of orthodontic patients over the age of 18 continues to grow in leaps and bounds every year. That's great news if you've spent years feeling unhappy with the way your teeth look or function. There's never been a better time to explore how Dr. Hemphill can give you a confident smile, so let's get started debunking common myths about adult orthodontic treatment!
Myth #1: Orthodontic treatment is only for kids
Many of our patients are, in fact, younger, but that doesn't mean they're the only ones who can benefit from orthodontics. Patients of any age can benefit from treatment! It's very natural and normal as we age to gain a better understanding over time of how oral health affects our overall health. This often inspires a desire to take better care of one's teeth and gums, which may include seeking specialized dental care or orthodontic treatment.
Maybe you've waited years to correct crooked teeth, overbites, underbites, cross bites, or jaw issues, and have decided now is the time. Or maybe you're primarily interested in improving the look of your teeth. Whatever your reason for seeking treatment as an adult, we have options that can give you a straighter, healthier smile that you'll love sharing with everyone around you!
Myth #2: Orthodontic treatment will make you stand out
The last thing you want to do when you feel self-conscious about your teeth is to draw more attention to them! You may think that's precisely what happens when you start treatment with braces or aligners, but thankfully modern technology has reduced the need for this worry. Dr. Hemphill provides several treatment types for your complete smile makeover, including esthetic options, so that the only thing anyone will notice is your beautiful new smile! 
Traditional braces
These are still the most popular and efficient orthodontic treatments around, and they can be used on patients of any age. Modern metal braces are much more comfortable and lighter than they used to be. They're also customizable, with a variety of fun colored bands to choose from if you want to show off a little personality with your smile! These braces deliver excellent results and are especially useful in cases that are more severe or complicated.
Ceramic braces
Ceramic or tooth-colored braces function the same way metal braces do, but they provide the additional benefit of blending in with your natural smile. The brackets are about the same size and shape as metal braces, but much less noticeable. When we pair them with clear, white, or tooth-colored wires and elastic ties, they are an incredibly subtle way to straighten your teeth! That's why they're so popular with adult patients. 
Invisalign clear aligner therapy
The Invisalign system uses a series of removable plastic trays that fit over your teeth and gently move them little by little into their ideal positions. The aligners are custom-made just for you and are replaced with the next in the series every 1-2 weeks to keep pace with the movement of your teeth. The aligners have to be worn essentially full-time to be effective, but since they are removable, they offer a measure of freedom and flexibility that fixed braces just can't beat!  This means that daily tasks of eating, drinking, and maintaining good oral hygiene are much simpler than they are with braces.
Myth #3: Braces are painful
Modern orthodontics is much more comfortable and gentle than ever before, while still being very effective. While they still take a little getting used to, the brackets and wires we use are much gentler than those of the past, and the minor issues that sometimes come with them (cheek/gum/tongue irritation, etc) can usually be fixed easily. If there's any tenderness after an adjustment appointment or in the early days of getting braces put on, soft foods, a warm compress, and an over-the-counter pain reliever will typically take care of it right away.
Invisalign aligners, in particular, are designed to be comfortable, though you may experience slight discomfort simply because your mouth isn't used to them being there. Invisalign aligners are custom-made to fit your teeth snugly. While they may occasionally cause a small spot of irritation, these areas can be smoothed easily by trimming the aligner or filing the edge down with a clean fingernail file. Because the aligners must be worn for 20-22 hours every day to be effective, comfort is an important feature for patient compliance, and one Invisalign takes seriously! Most patients experience almost no discomfort with their aligners.
Myth #4: Orthodontic treatment is too expensive
Orthodontics requires an investment of both your time and resources. However, the benefits can last a lifetime! You'll never encounter any hidden costs or unwelcome surprises here at Hemphill Orthodontics. During your consultation with Dr. Hemphill, we'll outline everything included in your treatment plan. This personalized plan contains everything you'll need for beautiful, long-lasting results. 
All appointments, including emergency visits
Braces or aligners
Retainers
Post-treatment follow-up visits
Our comprehensive treatment fees always include the skill and expertise of our team, as well as the quality of the products we use. We appreciate your investment and will work with your budget to ensure you're getting the best smile possible without creating an undue burden on your family. We offer flexibility in down payments and convenient interest-free financing plans.  We accept most major credit cards and insurance plans. We'll even file your insurance claims for you to make sure you get the most out of your benefits!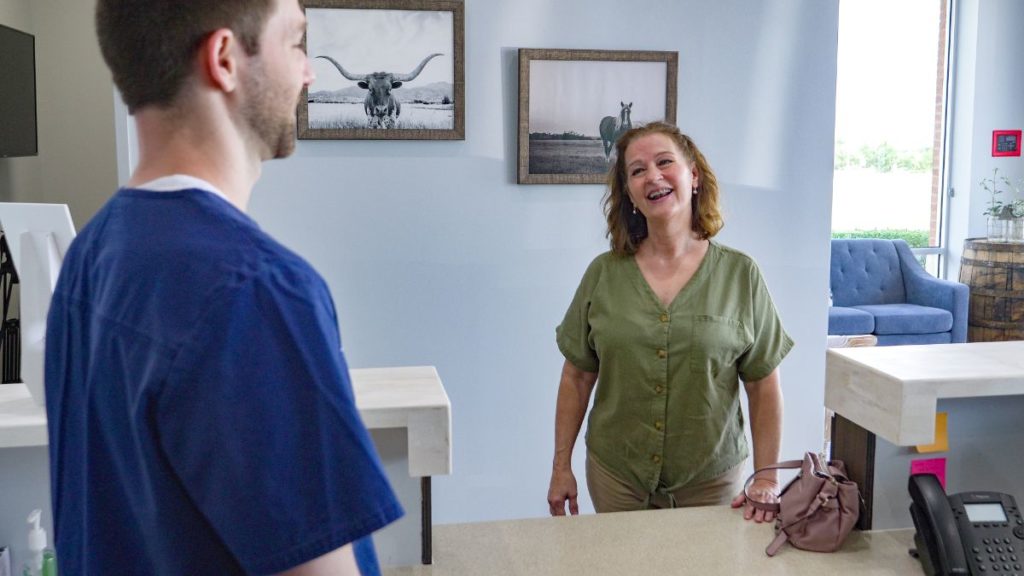 Achieve the smile you've always wanted with Hemphill Orthodontics
Despite the common myths that remain, adult orthodontic treatment can be a fantastic option for straightening your teeth and improving your oral health, whatever your age! An experienced orthodontist like Dr. Hemphill will guarantee you receive only the best treatment for your individual needs and goals for your smile. You can trust our expert team to provide you with an orthodontic experience that's rewarding and stress-free from start to finish. 
If you're ready to take the first step towards the smile you've always wanted, get in touch with us today to schedule your FREE consultation, and let's get started!